TV Map For Bucs-Cowboys
December 22nd, 2018
Looks like Bucs fans will get an early Christmas present from Santa tomorrow.
The TV map seems over half the nation will be treated to the Bucs-Cowboys game. From Maine to Washington, from Texas to Florida and many points between, including Alaska and Hawaii. Unless you live in the upper Midwest or the heart of ACC country, there's a good shot you get to see the Bucs play on your local FOX affiliate.
In fact, FOX is treating this as a national game, assigning it their first team of broadcasters: Joe Buck, giggling Troy Aikman and Erin Andrews.
Of course, Joe always recommends taking in the Bucs game and the full slate of NFL action at Abe's Place in Clearwater. The menu rocks.
It's America's Quarterback vs. America's Team at Jerry's World televised before the eyes of millions of Americans.
As always, the map is courtesy of 506sports.com.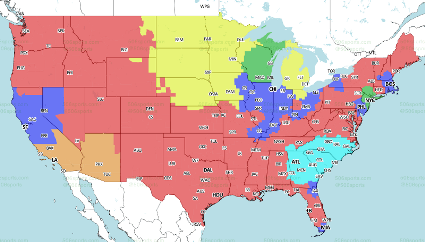 Red: Tampa Bay @ Dallas.
Green: Green Bay @ NY Jets.
Yellow: Minnesota @ Detroit.
Light Blue: Atlanta @ Carolina.
Burnt Orange: LA Rams @ Arizona (LATE).
Blue: Chicago @ San Francisco (LATE).