Koetter: Winning Now Is The Priority; Don't Overlook Practice Development & Evaluation
December 22nd, 2018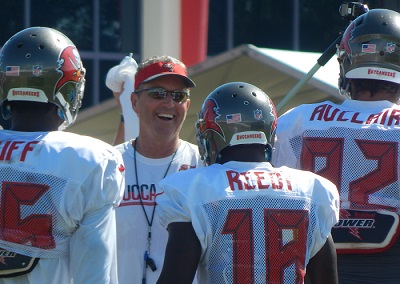 Nearly departed head coach Dirk Koetter had Joe running head first into walls last night after his weekly visit to SiriusXM NFL Radio.
NFL scouting godfather Gil Brandt asked Koetter to name young Buccaneers that have made significant progress from the start of the season until now.
Koetter paused and laughed and then mentioned rookies Carlton Davis and Jordan Whitehead, and he said "by far" the biggest progress on the team is Vita Vea. "Those are the three guys that jump out at me the most," he said.
Ok. Sounds good.
But then co-host Alex Marvez asked Koetter about a coach balancing getting playing time late in a season for the development of young players versus doing everything to win.
Koetter said it's all about winning at all times and fans might not realize players are developing in practice.
"Sometimes people think you're not looking at guys if they don't go in a game," Koetter said. "But they forget that we're looking at guys every day in practice. I think players do get development in practice, so sometimes it doesn't show up on Sundays. Alex Cappa is a young guy for us that, I know he hasn't gotten as much playing time as people would like to have as an O-lineman. But Alex Cappa has developed nicely for us this year and he's going to be a fine offensive linemen in the NFL."
Yeah, players are coached and observed in practice. But there's so little real hitting there that a guard like Cappa can't be properly evaluated until he's in games.
And you can make the same case for Ronald Jones. Offensive line and running back are positions that can only be judged effectively in real games or 100-percent-live-hitting practice (which doesn't happen on Koetter teams to Joe's knowledge). You can hear coaches talk about that every single training camp.
Cappa should be starting now for Caleb Benenoch, especially if he's "developed nicely," as Koetter said. And Ronald Jones needs the rock multiple times to see what he can do running inside.
This season is toast and winning is of secondary importance. Next year should be the priority. Joe sure hopes Koetter and the organization decide to empty the bench in the season finale.