"Today's Blame Monday"
December 10th, 2018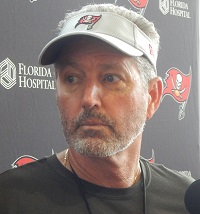 Dirk Koetter took himself and his 11-21 record in the last 32 games to the podium at One Buc Palace this afternoon.
And the head coach announced "Today's blame Monday."
Koetter said that means it's time for the quarterback and offensive line to take the brunt of the heat but it should go deeper than that in the Bucs' 28-14 loss to the Saints.
He cited a couple of drops, plus a couple of poor reads by Peyton Barber on runs. He talked about playing poorly on offense overall and how the Bucs blew too many good field position opportunities and can't make kicks.
And like Joe was railing yesterday, Koetter pointed at Cameron Lynch getting "stuck" on the blown punt block and missing the Saints basic defensive line "twist" that they had run previously. (Koetter didn't name Lynch but Joe will.)
Bad tackling reared its ugly head in the fourth quarter, Koetter added.
What Joe didn't hear was Koetter talk much about having his team mentally ready, or not ready, in the second half.
The player-focused chatter quietly reminded Joe of when offensive coordinator Todd Monken eloquently said of last year's red zone offense after reviewing a year's worth of film, "We chose to suck."