Pride Is An 8-Point Underdog
December 10th, 2018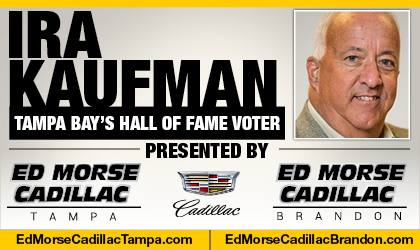 BY IRA KAUFMAN
It's closing time for the 2018 Bucs, so belly up to the bar and drink in these morsels.
With 10 teams in the NFC sporting better records, the Bucs are done in terms of the playoff chase. That makes 11 consecutive years without postseason play, encompassing three general managers, five head coaches and about 20,000 supporters turned apathetic.
Had Tampa Bay held onto that 14-3 halftime lead and swept the Saints, the rest of this season would have been very interesting at 6-7.
Instead, the Bucs will head to Baltimore with their playoff aspirations put on hold for yet another year.
"For me, it's simple," says Adam Humphries. "We still have a lot to play for. We represent the logo on our helmet and we represent the name on the back of our jersey. Whatever our record is or whatever
outside people are saying, we've got to fight for what we represent and put our best foot forward, regardless of circumstances."
The Bucs have dropped five in a row on the road after that Week 1 shocker at the Superdome and awful defense has been the primary culprit. Coming off a bitter OT loss in Kansas City but still hunting down Pittsburgh for the AFC North crown, the Ravens boast one of the league's most physical defenses.
This will be quite a test for an offensive line that failed to meet the challenge yesterday, when Jameis Winston led the Bucs in rushing for the second consecutive week.
He also took a pounding, absorbing four sacks and 10 hits.
Blame Game
This was a tale of two halves.
"I don't think one play messed up the whole game," said Demar Dotson, referring to the third-quarter blocked punt that revived the Saints from their lethargy.

"That was a momentum switch, but we could have bounced back. Instead, we let them off the hook. Our defense played well, but we put them in a lot of bad situations. Let's face it … we let a good team get away."
You can't overstate the effect of that blocked punt.
For example, the Saints had rushed 11 times for 5 yards before Taysom Hill broke free up the middle and smothered Bryan Anger's kick. Assuming possession at the Tampa Bay 30, Mark Ingram immediately broke off right tackle for 11 yards. Ingram then gained 4 yards and two plays later, Alvin Kamara went around left end for 7 yards.
Next snap, touchdown.
"That blocked punt was huge," said Cameron Brate. "There's something about a blocked punt that gets a team going, even more so than an interception or fumble. But there were other plays we failed to make, too. Winning 14-3, we had a forced fumble and a short field and we come up with zero points. We score a touchdown there and they really would have been dead in the water."
Pride On The Move?
The Bucs were limited to only 81 yards in the second half as their six possessions ended in four punts (including one block), a missed FG try and a turnover.
"We were terrible, we couldn't get anything going," Brate said. "Give them credit, they challenged us as an offense and we didn't have it today. The second half was tough to be a part of — embarrassing."
What now?
When you fail to meet team goals, you have to turn inward and look at the man in the locker room mirror.
"Every guy is playing for his livelihood," Dotson said. "No matter what the record looks like, you continue to fight and play for your individual pride."
We're about to find out how pride travels. At the moment, pride is an 8-point underdog.
JoeBucsFan.com columnist Ira Kaufman is in his 40th year covering the NFL. "The Sage of Tampa Bay Sports" is also a TV star, seen weekly on the FOX-13 Tailgate Sunday show, and on Bay News 9. Also, Ira goes national every Wednesday at 5 p.m. on SiriusXM Mad Dog Radio with iconic host Chris Russo. The Ira Kaufman Podcast pops here every Tuesday and Thursday, and Ira fires away with Derrick Brooks on TAMPA TWO, a production of The Identity Tampa Bay and JoeBucsFan.com.