"We Struggle To Block Him All Week"
December 3rd, 2018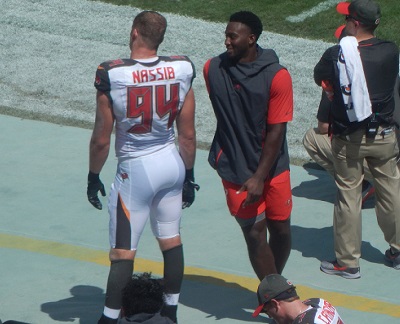 Before yesterday's game, general manager Jason Licht uttered the old saying, "One man's trash is another man's treasure."
He wasn't quoting Angus Young.
Licht was talking about defensive end Carl Nassib on the Buccaneers Radio Network. Of course, Nassib was the Browns castoff Licht claimed on waivers in early September.
Nassib and friends went out minutes later and won the trenches battle against the Panthers. The pass rush came in waves and was relentless.
Dirk Koetter talked about the D-line success today and said it all starts with the play of Nassib and Jason Pierre-Paul. Nassib is known for his motor and Koetter said "we struggle to block him all week." JPP is also a practice warrior but doesn't practice as often because of injury, Koetter explained.
Nassib, 25, had two quarterback hits Sunday but no other stats in the box score, which was just fine as the D-line as a group was extraordinarily consistent and disciplined.
Even with 5 1/2 sacks this season, Nassib's play has been much more than about numbers, as Koetter explained. He's driving significant change in the defense, the kind that feels like an overhaul rather than a streak.