With The 17th Pick In The 2016 NFL Draft …
December 7th, 2015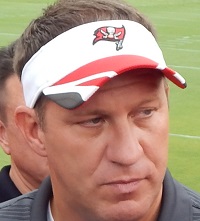 It's never too early for draft talk. But it's always nice when it's not an important conversation in December, or in October, as it was the last two Bucs seasons.
NFL.com is keeping track of all things draft and the associated mathematics. Per the official league site, the Bucs own the 17th pick the first round, if the season ended today.
Longtime personnel guru and film junkie Lance Zierlein thinks the Bucs need offensive line help in a hurry.
Analysis: There are needs galore for this team, but it starts at offensive tackle in my mind. Tampa needs to look for a young, athletic replacement for Gosder Cherilus and finding a replacement for veteran Logan Mankins at guard could be in the offing, as well. Lovie Smith's defense is based on upfield pressure, but he has only one defensive end in place and needs to find a true edge man for the right side. Cornerback and safety are both big concerns and Tampa might need to make cornerback an early priority.
Joe likes much of Zierlein's thinking.
The Bucs should not be afraid to draft the future at right tackle — sorry, 30-year-old Demar Dotson is not the future — or an eventual replacement for Logan Mankins, who likely has one more good year left in his body.
America's Quarterback, Jameis Winston, deserves a hearty offensive line in front of him at all costs. It's very hard to go wrong with a stout line and a franchise QB.