Streak Broken; Heart On Display
December 2nd, 2018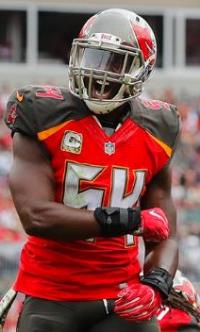 Coming of a knee injury that cost him two games, Lavonte David truly was fantastic today in his return.
Last week, Dirk Koetter joked about how David ordered him to tell team doctors to let him practice without a knee brace.
It seems the doctor's wouldn't listen, but that illustrates just how much this team means to David. The dude came back must faster than many expected from a rough ankle injury suffered in Week 2. And he pulled if off again today.
David's pass breakup popped a Cam Newton pass in the air that landed in the hands of cornerback Andrew Adams, the first of his three picks today.
David also had his first full sack since the 2016 season. That's no typo. He had a half-sack earlier this year.
The Bucs captain finished with 10 solo tackles and two assists, including an important takedown late to keep Christian McCaffery from getting out of bounds.
Big-time day from David, exactly what the Bucs needed.