Offensive Linemen Agree On Shuffling Mystery
December 31st, 2018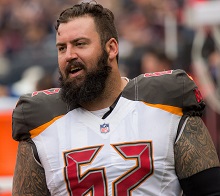 One of Joe's missions in the Bucs' locker room today was to get an answer that Dirk Koetter would not provide to media.
This mystery was rooted in the 2017 season. Inexplicably that year, Koetter rotated Kevin Pamphile and Evan Smith at left guard until injuries on the offensive line ended the rotation.
Pamphile, now with the Tennessee Titans, didn't like it at all but wouldn't go further with Joe on the subject, even at the Bucs-Titans joint practice this summer in Nashville.
The concept simply did not jibe, and it was as if Koetter knew it so he was hiding his reasoning.
Offensive line often coaches bellow about continuity on the line and its importance. Well, Koetter was intentionally shaking that up. Tackles much prefer a guard playing next to them regularly for obvious communication reasons, but Koetter didn't put a priority on that.
After last year's left guard shuffle, Koetter transferred that to right guard this season with Caleb Benenoch and Smith, and then Benenoch and Alex Cappa.
Today in the locker room, Joe talked to three offensive linemen about why this was done. Hey, Koetter's gone and it's just an Xs and Os question, right?
Well, Joe got answers.
And the players said the reason for the rotation was never explained. It was just one of those things and the reason was not communicated. It wasn't a popular situation among the linemen, not a problem, per se, just something they didn't get.
Joe's willing to bet a few hundred bucks that the next Bucs offensive guru won't play that wacky guard game.