Up Next, A New Head Coach
December 9th, 2018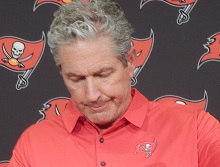 Anyone think the Buccaneers looked well coached today? How about this season overall?
Remember the Dirk Koetter motto/slogan for players this season was "Discipline Driven."
Joe's beloved Buccaneers looked anything but disciplined today, and they certainly fell apart offensively with a lead, much like they did last Sunday.
Why does that happen in Year 4 of an offensive system with the same starting quarterback?
This time the offensive collapse resulted in a home blowout, 28-14, in a must-win game against a division rival. That's a terrible look for a head coach on thin ice.
Ten penalties for 84 yards, a blocked punt that was an inexcusable blocking failure by Cameron Lynch, and an overall lack of fire in the second-half of an everything game at home, it all added up to another messy performance by the 5-8 Bucs coming off a 5-11 season.
Now Tampa Bay heads to face a sledgehammer playoff-caliber team in cold Baltimore, and then to a totally revitalized Dallas team at Jerry's World after that.
Team Glazer knows what they're watching from Koetter. Will they possibly chat this week and believe Koetter is their next Super Bowl head coach? No chance.
If the coach-shopping didn't start already, it really needs to ramp up tomorrow morning.