My List, My Rules
December 5th, 2018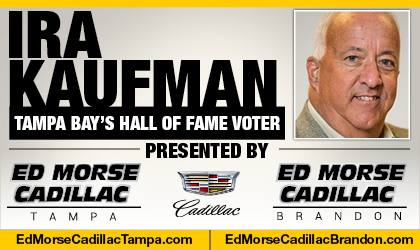 BY IRA KAUFMAN
Drew Brees casts a major shadow over Sunday's big game at Raymond James Stadium.
It's a big game for the Saints because they can clinch the NFC South title at 11-2 and prove that the 13-10 loss in Dallas was a mere blip on a dominant season.
And it's a big game for the home team, which can sweep New Orleans, improve to 5-2 at home and make the final three games of the season quite interesting.
As usual, Brees looms large, despite a relatively small frame.
He is 16-10 in his career against Tampa Bay, with 51 TD passes and only 26 interceptions. The Bucs have sacked Brees 34 times and a surging pass rush will be tested against one of the NFL's premier offensive lines.
The Cowboys hit Brees repeatedly in prime time as the Saints were limited to only 176 yards, their lowest output of the Brees/Sean Payton era.
"We won 10 a row and we felt like we were rolling," Brees said. "Now, it's time to get that mojo back."
Brees has already thrown for more yards than any quarterback in league annals — and he's looking to pad those numbers against Tampa Bay's young but spirited secondary.
Earlier this season, as Brees closed in on some cherished NFL records, I had the audacity to suggest to Chris Russo on SIRIUS Radio that Brees belongs on a list of the game's Top 10 quarterbacks of all time.
The Mad Dog barked at me, apparently upset that I had Brees ranked ahead of Trent Dilfer. Sorry, Chris. Like the late Tom Petty, I won't back down, so here's my Top 10:
No. 10. Roger Staubach –  Roger the Dodger won four NFL passing titles and the Cowboys were never out of a game while No. 12 was under center.
No. 9. Brees – He turns 40 next month, but Brees shows no signs of slowing down. The cast around him constantly changes, but Brees always seems to have the Saints offense among the league leaders.
No. 8. Brett Favre – Won three consecutive MVP awards and set new standards for durability at the position. One of the great gunslingers.
No. 7. Dan Marino – Stunned the league with a then-record 48 TD passes in 1984, just his second pro season. Fabulous arm, quick release, but never had enough defense in Miami to earn a Super Bowl ring.
No. 6. John Elway – Master of the fourth-quarter comeback, he went out on top with back-to-back Super Bowl championships.
No. 5. Otto Graham – Guided Browns to 10 division or league crowns in 10 years. When you've earned Paul Brown's trust, you deserve to take a bow.
No. 4. Johnny Unitas – Rose from the scrap heap to become a 3-time Player of the Year. Led Colts to NFL championships in 1958 and 1959.
No. 3. Peyton Manning – Only player with five MVP awards, Manning was named to 14 Pro Bowls. Nobody prepared harder, or smarter.
No. 2. Joe Montana – Named Super Bowl MVP three times and threw 11 TD passes on the NFL's biggest stage, without a single interception.
No. 1. Tom Brady – Has five Super Bowl rings and directed New England to the championship game on three other occasions. Still going strong at the age of 41. The NFL's ultimate competitor.
Who didn't make the cut? Terry Bradshaw, Aaron Rodgers, Steve Young, Bart Starr.
Hey, it's my list, my rules.
Now in his 40th year covering the NFL, Ira Kaufman is the most revered sports personality and writer in the Tampa Bay area. He scored a full-time seat at JoeBucsFan.com world headquarters in July of 2016, and Tampa Bay's only Pro Football Hall of Fame voter busts out columns here every Monday, Wednesday and Friday. His award-winning podcasts fire Tuesdays and Thursdays. And everything is presented by Ed Morse Cadillac Tampa and Ed Morse Cadillac Brandon. You can also hear Ira on SiriusXM Mad Dog Radio Wednesdays at 5 p.m. Also a TV star, Ira is part of the FOX-13 Tailgate Sunday NFL show at 10:30 a.m. "The Sage" enjoys beet salads, Riesling, tennis, Bette Midler, Chiefs victories and needling Joe. …Don't forget to WATCH IRA AND DERRICK BROOKS on the new TAMPA TWO show from The Identity Tampa Bay and JoeBucsFan.