Bucs Attendance Blasted Nationally
December 5th, 2018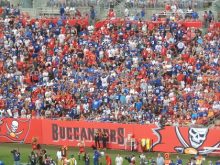 The Buccaneers' nice gesture of giving away thousands of tickets to season pass holders and others in the community sure fired up a lot of observers after the stadium still had lots of empty seats on Sunday.
Panthers beat writer Marcel Louis-Jacques took his shot in the Charlotte Observer.
"Tampa Bay's attempt to fill its stadium by giving season ticket holders free tickets …. didn't work. The upper deck at Raymond James Stadium was sparsely populated and the lower bowl wasn't a heck of a lot better."
Sports Business Daily reported on the 52,000-plus butts in the seats for Sunday's game, and iconic NFL insider Mike Florio of ProFootballTalk.com thinks that is an ominous sign for the current Bucs regime and their starting quarterback.
The inability to fill the stadium doesn't bode well for the current power structure in Tampa, and it won't make it more likely that the organization will keep quarterback Jameis Winston.

The Bucs get another chance to not fill the building on Sunday, when the Saints return to town. Given that the Bucs beat their division rival in a Week One 48-40 shootout, if the locals don't show up for this one, they never will.
There are lots of reasons for poor Bucs attendance, "poor" when compared to other NFL teams. It starts with weak sauce marketing and more than a decade of no playoff games. Joe can't hang Dirk Koetter, Jason Licht and Jameis for that. However, they are part of the mix.
Ultimately, the Bucs are an entertainment product, and if the fans are responding well to it, then that will affect ownership decisions.