Meltdown Of The Offensive Line
December 13th, 2018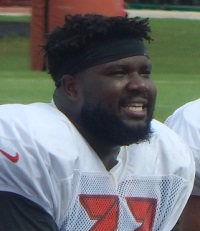 Prior to the season, Bucs AC/DC-loving general manager Jason Licht said he wanted to build a nasty offensive line.
That's why he signed Ryan Jensen in the offseason. Licht cited his "nasty" attitude.
But having a nasty attitude is much different than being able to block efficiently. And as the NFL season has grown longer, the Bucs run blocking has gotten worse. In fact, per FootballOutsiders.com, by way of jet-flyin', kiss–stealin', data-analyzin', Bucs-film-studyin', limousine-ridin', why-man Thomas Bassinger of the Tampa Bay Times, only one offensive line allows running backs to get blown up behind the line of scrimmage more than the Bucs.
Though Tampa Bay sought to maintain a balance between runs and passes, that commitment provided little benefit. Take, for instance, a second-and-5 run in the first quarter. Saints defensive end Alex Okafor slipped through the gap between left tackle Donovan Smith and left guard Ali Marpet to trip up Peyton Barber for a 3-yard loss. After an incompletion on third down, the Bucs punted.

Such losses have been commonplace — far too commonplace at this point in the season — and it's more of an offensive line problem than a running back problem. Bucs running backs have been stuffed (tackled at or behind the line of scrimmage) on 26.2 percent of their runs this season. Only the Falcons have been stuffed more often (26.5 percent).
This is not good. Of course, football people say leaving that glorified Hyatt Regency doorman Caleb Benenoch on the field at right guard absolutely erodes the entire offensive line as dudes are cleaning up the messes he leaves behind.
Mark Duffner showed what a competent coach can do when he takes over a unit stinking the joint up with a coach who is over his head. The Bucs have a lot of Team Glazer loot and draft capital sunk into the offensive line for it to be shatting on the field.
That's not a good sign for veteran offensive line coach George Warhop.
.@Saints @MarcusJD84 in playing less than 1/2 the snaps is making an impact. You watch in the PLAYOFFS the MAHEM he creates. #Saints climbing up the charts to #10 defense in the @NFL. Going to be top 5 by seasons end. #BaldysBreakdowns pic.twitter.com/YOMYHGECEk

— Brian Baldinger (@BaldyNFL) December 12, 2018