"I Think It's Actually Irresponsible For Him To Play"
December 9th, 2018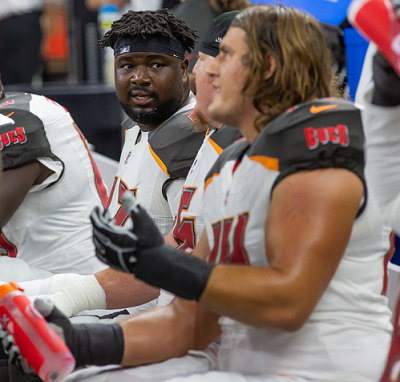 A former player who collects a paycheck from the Buccaneers took a sledgehammer to the Tampa Bay offensive line and the team's personnel decisions after today's blowout loss to the Saints.
Ex-Bucs and Bears blocking tight end John Gilmore has seen enough and has reached a new level of disgust with the Tampa Bay O-line.
Gilmore has been blasting the line all season and he escalated today.
On right guard Caleb Benenoch, Gilmore said he is so bad he is dragging down the entire line and is a danger to Jameis Winston. Gilmore called for Benenoch to be benched for the rest of the season. "I think it's actually irresponsible for him to play," he said. "I don't know why he's still playing."
Demar Dotson struggled today, but Gilmore said you can attribute plenty of that to covering for Benenoch — or attempting to.
Gilmore wants more Alex Cappa immediately in Benenoch's place and implored fans to realize that one very weak link on an O-line creates a massive ripple effect, and that's the case with the Bucs. The rest of the line is "overcompensating" for Benenoch.
Center Ryan Jensen took some shots from Gilmore for his overall play, as did Donovan Smith.
On Jameis, Gilmore said "he wins my ironman award for today" for playing behind this Bucs O-line.
"Somebody's going to get hurt," Gilmore added, referring to Benenoch potentially continuing at right guard.