About The Jameis Winston Fumble
December 23rd, 2018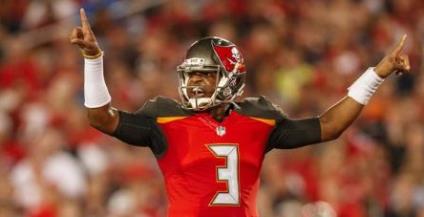 So there was America's Quarterback, Jameis Winston, 3rd-and-5 on the Cowboys 34 yard line with the Bucs trailing 7-3 late in the first quarter.
Jameis escapes pressure in the pocket, and with a little room to run in front him, Jameis scrambles out to the right and is stripped from behind and the Cowboys get a scoop-and-score touchdown.
It was a massive turnaround.
Dirk Koetter said don't blame Jameis because was just trying to make a play he's made before and it was a good play by the defense. Buccaneers Radio Network analyst John Gilmore, the ex-Bucs tight end, won't put it on Jameis either. FOX analyst and Hall of Fame QB Troy Aikman put it on Jameis not protecting the football.
Joe has to call it straight. If Jameis tucks and runs and gets positive yardage and keeps the team in field goal range or gets the first down, every single Bucs fan praises his awareness. So Joe believes you can't have it both ways.
Jameis held the ball 4 seconds and got stripped. Great defensive play, yes, But still, Jameis' internal clock, which has been excellent in recent weeks, failed him.
He gambled and lost. It happens. It doesn't mean Jameis sucks. But you just can't do that, especially in that situation.
Here's the play — and replay — for your review below:
Merry SMITH-mas ✨@thejaylonsmith picks up the gift & takes it all the way 🏡#DallasCowboys pic.twitter.com/7zRaZ8kCHY

— Dallas Cowboys (@dallascowboys) December 23, 2018