Jameis Blames Self
December 16th, 2018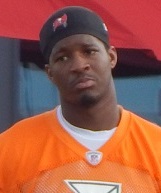 There is but one person at fault for the loss today said America's Quarterback, Pro Bowler Jameis Winston.
And that man was the guy doing the talking: Jameis.
Talking on the Bucs radio network after the game, Jameis told Bucs sideline reporter T.J. Rives he's the culprit.
"You can't turn the ball over in your own territory," Jameis said.
Of course, Jameis was talking about his lone interception that came in the fourth quarter. It sure didn't help and it was not a good pass by Jameis but Joe credits cornerback Marlon Humphrey the most. He boxed out Bucs receiver Mike Evans in order to get perfect position to make the play on the ball.
Joe will have a bit later what the real culprit was.