Ira Kaufman's 10 Takeaways From Bucs-Saints
December 9th, 2018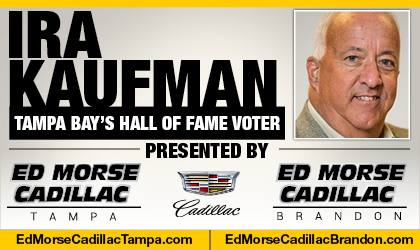 BY IRA KAUFMAN
According to the old clock on the wall, Tampa Bay's 2018 season effectively ended at approximately 4:15 Sunday afternoon.
That's when the Saints completed a 25-0 blitz in the second half en route to a 28-14 triumph that left the Bucs out of the playoff chase at 5-8.
By my watch, the season ended an hour earlier, when a reserve quarterback by the name of Taysom Hill smothered a Bryan Anger punt.
Before that mid-third quarter block, the Saints looked dead in the water … and there was plenty of water to go around at soggy Raymond James Stadium. Tampa Bay's run defense had been stout and Drew Brees couldn't find much rhythm as the Bucs nursed a 14-3 advantage.
That's when Hill burst through the middle — a cardinal sin even in Pop Warner. You could feel the momentum drain from the home team and sense a surge of energy by the visitors.
The Bucs never recovered and now it's on to Baltimore and Dallas before the season finale against the reeling Falcons, who look like they've packed it in for the year.
Here's how Tampa Bay lost its bearings, and its playoff aspirations after building a 14-3 halftime lead:
* Jameis Winston wasn't very good, period. He threw a pair of short TD passes to Cameron Brate in the opening half and the Saints applied considerable pressure, but that 71.5 passer rating simply won't do. In the second half, Winston completed only 6-of-17 for 83 yards. Blame it on poor line play, blame it on the rain, blame it on Rio if you must, but Winston wasn't good enough Sunday.
* This was also a bad day for the offensive line. Pass protection was spotty as Winston was sacked four times and hit on 10 other occasions. Run-blocking was subpar, as usual. Take away Winston's 47 yards on scrambles and the Bucs would have averaged 3.2 yards per carry.
* Brate continues to flourish while Winston is under center. This guy knows how to get open and rarely drops a pass. He is Winston's go-to target in the red zone for good reason and he now leads the Bucs with six touchdowns.
* Adarius Taylor played a nice game for a defense that was worn out by game's end. Taylor posted six tackles, picked off a Brees pass and demonstrated a physical presence that had to please Mark Duffner.
* The punt block was inexcusable. It turned the game around and you can't allow a second-year QB to race in virtually untouched. "Both the tackle and the wing set on Alex Okafor and my whole thing was just don't miss the ball because I got there really early," Hill said.
* Give the Saints their due. They clinched their second consecutive NFC South title, and this one tested their resilience. They were the dominant club after intermission on both sides of the ball — and on special teams.
* Speaking of special teams, this won't be a good week for assistant coach Nate Kaczor. Besides the blocked punt, the Bucs missed two FG tries after Cairo Santos entered the game 3-for-3. Santos hit the right upright from 46 yards out and pushed a 40-yard attempt wide right. In a tight game against a division leader, those misses were critical.
* Duffner's defense has nothing to be ashamed about. The Saints boast a dynamic ground game with Alvin Kamara and Mark Ingram, yet New Orleans had three rushing yards on nine first-half carries. One of the NFL's best offenses featured a long gain of only 20 yards.
* Michael Thomas is officially a Buc-killer. In Week 1, Thomas grabbed 16 of the 17 passes Brees sent his way for 180 yards. On Sunday, he caught 11 of 13 targets for 98 yards. This guy's a stud, plain and simple, on pace for 125 receptions this season.
* With three games remaining, all the Bucs have left to play for is their personal pride. They had an opportunity to sweep the Saints and improve to 5-2 at home, but now they must deal with a loss that cuts deeply. "We're all professionals and we're paid to do a job," Demar Dotson said. "Keep your head up and keep competing."
JoeBucsFan.com columnist Ira Kaufman is in his 40th year covering the NFL. "The Sage of Tampa Bay Sports" is also a TV star, seen weekly on the FOX-13 Tailgate Sunday show, and on Bay News 9. Also, Ira goes national every Wednesday at 5 p.m. on SiriusXM Mad Dog Radio with iconic host Chris Russo. The Ira Kaufman Podcast pops here every Tuesday and Thursday, and Ira fires away with Derrick Brooks on TAMPA TWO, a production of The Identity Tampa Bay and JoeBucsFan.com.