Adam Schefter Talks Joe Flacco "Could Be In Play" For The Bucs, Possible Dirk Koetter Firing Next Week
December 13th, 2018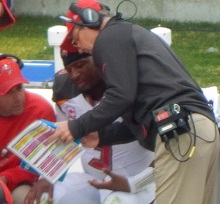 When your team is 11-21 in its last 32 games, the national heavyweight analysts start sniffing change in their travels.
One of those big guns is ESPN's top NFL dog Adam Schefter. He was chatting on WJZ-FM in Baltimore this week and, of course, the subject of Ravens quarterback Joe Flacco came up.
Schefter speculated that Flacco could end up in Florida next season because, per Schefter, all three NFL teams in the Sunshine State have unstable quarterback situations. "I would think that he'd be in play in any one of them," Schefter said of Flacco being considered by the Bucs, Jaguars and Dolphins.
Assuming Flacco is traded by the Ravens after this season, the 33-year-old is due $18.5 million next year and $22 million in 2020. America's Quarterback, Jameis Winston, would earn $20.9 million in 2019.
In talking about coaching changes across the NFL, Schefter noted the increasing impatience among NFL owners and noted the coach-cutting (coordinators and head coaches) is rolling weekly.
Schefter said he expects that trend to continue next week "whether that's Todd Bowles or Dirk Koetter." Schefter added it could be a different head-coaching name but he didn't offer one up.
Joe would applaud Team Glazer getting an accelerated jump on the hiring process for a new head coach by firing Koetter. There could even be upside in turning the offense completely over to Todd Monken for the final two games.
If the offense subsequently improved radically, that could influence Team Glazer's mindset and lean them toward hiring a defensive-minded head coach who would retain Monken.