"I'm A Coach And He's A Player. I Think Our Relationship Is Fine."
December 27th, 2018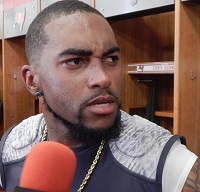 Not a lot of warm and fuzzy chatter by Dirk Koetter today when asked about his relationship with DeSean Jackson.
For those who missed it, ESPN Live aired a segment yesterday about Jackson had how things soured between him and his head coach, escalating during a Nov. 28 incident.
Today at One Buc Palace, Koetter said he didn't see the report but made little effort to call it baloney.
"I'm a coach and he's a player. I think our relationship is fine," Koetter said, after suggesting he's no fan of ESPN and saying Jackson is a proven and "outstanding player."
What really happened is unclear. Joe suspects Jackson and Koetter clashed just before, during, or just after this specific meeting.
Perhaps the Bucs, in a covert effort to help tank Sunday's very meaningful game when it comes to 2019 draft position, asked Jackson to call ESPN this week and create a last-minute distraction.