Dominik: A Second- And Third-Round Pick Might Be A Good Trade For Gerald McCoy
December 27th, 2018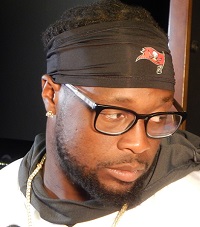 As the walls cave in on the power structure at One Buc Palace, fans are focused on what's next for the big names on a roster primed for an upheaval.
One man who knows plenty about coaching and roster changes is former Bucs rock star general manager Mark Dominik.
He talked about that today on WDAE-AM 620. Dominik emphasized it's important to resist a clean-sweep mentality and the Bucs should be focused on considering keeping coaches that have been successful here. Joe will toss out names like Brentson Buckner and Mark Duffner as examples.
Dominik moved on to personnel. On that front, he was asked about trading Gerald McCoy, the guy he drafted No. 3 overall in 2010.
The former GM, who works for SiriusXM NFL Radio and maintains many friendships and contacts across the league, said McCoy is held in high regard in scouting circles."If you talk to anyone around the National Football League, they see the talent," he said.
But Dominik added, "I just don't think you could get a first round pick [for McCoy]."
Dominik suggested his gut tells him McCoy, who turns 31 in February, could fetch a second-round and a third-round pick in an offseason trade.
That might be a good trade for the Bucs, he said, but he cautioned that fans should realize the difficult reality of replacing a top talent. He pointed to the Raiders now having three first-round draft picks but facing the challenge of replacing Khalil Mack and Amari Cooper.
"Just because you want to trade a guy doesn't mean you're going to make the team better," Dominik said.
Would Joe trade McCoy for a second- and a third-round pick?
First, Joe would need to know where those picks actually fall. Second, Joe would want to know the Bucs' overall team-building philosophy in place.
But if the Bucs went into a clear rebuild mode and must choose, say, between keeping Jason Pierre-Paul or McCoy, then sure, Joe would pull the trigger on trading No. 93. A solid second- and third-round pick is nothing to sneeze at. Joe could totally see McCoy in Miami playing alongside Akeem Spence.