Fans Have 2019 Home Game Taken Away
December 12th, 2018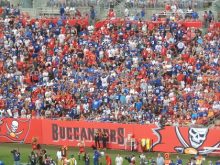 The beatdown of Bucs fans continues.
The NFL announced this morning the Bucs will have a home game ripped away from them so the Bucs and an unannounced team can play internationally. No word on what country yet.
The opponent will be announced this coming spring.
Joe absolutely hates this. Fans simply cannot wait for football season and Bucs fans cherish the eight games a year they get to spend with family and friends at a Bucs game.
Joe doesn't give a sh!t about growing the game. This is the equivalent of spitting in Bucs fans' faces. This is just wrong on so many levels.
This is yet another kick in the nuts for Bucs fans. Like an 11th year of no playoffs. Next thing you know the Bucs will cut America' Quarterback, Pro Bowler Jameis Winston.
What horrible news.
Merry Christmas!