Bleeding Out
December 12th, 2018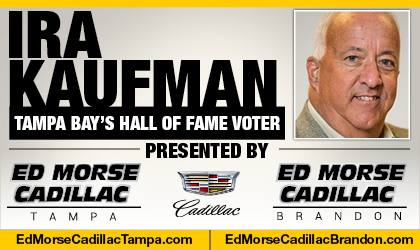 BY IRA KAUFMAN
You know that queasy feeling when you're headed for a pothole and you brace for the impact?
A purple and black pothole awaits the Buccaneers Sunday at M&T Bank Stadium — and there will be extensive damage.
The Ravens are simply the wrong opponent at the wrong time for a franchise that is now relying on professional pride to carry the day. At 7-6, the Ravens have an opportunity to end the weekend sitting atop the AFC North. All it will take is a victory against a terrible road team and a loss by Pittsburgh against New England.
"We're in a fight for the division against a team we have great respect for," says John Harbaugh. "They're on their path, and we're on our path. We need to take care of our business. You want to advance in the National Football League? You got to win games, and that's what we're focused on doing."
A setback in Baltimore would ensure another losing season for the Bucs, who have dropped their last five road matchups since that Week 1 mirage at the Superdome.
What's the problem? In those last five road games, Tampa Bay has 15 giveaways — and zero takeaways. That's correct, a tidy minus-15 differential that wasted a lot of passing yards and comeback bids.
There's also the fact that opponents are averaging 40 points when the Bucs hit the road.
Exotic Maulers
The strength of the Bucs plays directly into the strength of the Ravens. Tampa Bay's typically robust passing game, which was inept in the second half against the Saints last week, is facing a very strong pass defense.
Led by 36-year-old Terrell Suggs, Baltimore's pass rush is hard to handle. The Ravens hammered Patrick Mahomes repeatedly in an OT loss at KC, using exotic blitz packages and stunts. And when it comes to mobility and arm strength, Jameis Winston is no Mahomes.
Baltimore's special teams under Harbaugh are always stellar, and this year is no exception. Tampa Bay's special teams cost the Bucs a win last week.
Rookie quarterback Lamar Jackson has injected some life into a listless offense while winning 3-of-4 starts. He's got a lot to prove as a passer, but Jackson already leads the Ravens in rushing and averages 5 yards per carry.
If the Bucs tackle poorly or play undisciplined up front, I can see Jackson throwing for 200 yards and running for 100 yards.
Trust Issues
This game could get very ugly very quickly. Why should we trust the Bucs on the road? Forget all the nonsense about the Bucs still being alive in the NFC playoff chase. Even with favorable outcomes last week, Tampa Bay's postseason chances have been tabbed at less than one percent.
The odds are far better that the Bucs will be put out of their misery by Sunday evening. They're facing the No. 1 scoring defense in the league and Baltimore's superior physicality will be evident.
Couple that with the motivation of earning a division title and you've got a potential rout for Dick Stockton and Mark Schlereth to break down in the broadcast booth.
"The way we look at it is we need to win three games in a row," Harbaugh says. "We've been here before. Let's do it."
The last time these two clubs met, the Ravens raced to a 38-0 halftime lead in 2014 before cruising to a 48-17 victory in Tampa.
Sunday's result won't be as lopsided. But there will be blood.
JoeBucsFan.com columnist Ira Kaufman is in his 40th year covering the NFL. "The Sage of Tampa Bay Sports" is also a TV star, seen weekly on the FOX-13 Tailgate Sunday show, and on Bay News 9. Also, Ira goes national every Wednesday at 5 p.m. on SiriusXM Mad Dog Radio with iconic host Chris Russo. The Ira Kaufman Podcast pops here every Tuesday and Thursday, and Ira fires away with Derrick Brooks on TAMPA TWO, a production of The Identity Tampa Bay and JoeBucsFan.com.