"Every Man For Himself"
December 17th, 2018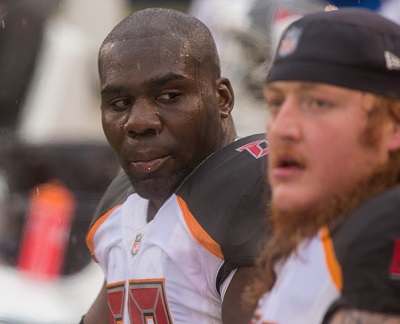 Bucs veteran right tackle Demar Dotson is as good of a man and a teammate as there is in the Bucs locker room. So when he said dudes are going to start looking out for No. 1, including himself, you know things are bad.
In a video shared by Kevin O'Donnell of WTVT-TV, Channel 13, Dotson is seen below answering a question from Joe about whether the team might start playing for Dirk Koetter's job. Dotson explains it's "Every man for himself at this moment" on the Bucs, adding, "I'm not worried about saving Dirk's job. I'm worried about saving my own."
By all appearances, it sure looks like Koetter is a dead man walking.
You can watch the full video below, and what Dotson said about the Bucs' disturbing halftime demeanor here.
#Bucs right tackle Demar Dotson when asked about playing for Dirk Koetter's job, "I'm not going to worry about saving Dirk's job, I'm worried about saving my own."
MUST HEAR pic.twitter.com/3rQrJLzLJA

— Kevin ODonnell Fox13 (@ODonnellFox13) December 17, 2018