Donovan Smith Talks Injuries, Streak, Contract
December 31st, 2018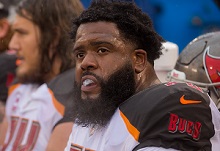 Joe got 1-on-1 time with Donovan Smith today and the big fourth-year tackle cleaned out his locker at One Buc Palace.
Yes, the Smith haters are out there and loud. And Smith knows all about you and how he's viewed by a lot of fans and media.
But there's the other side of Smith that often gets glossed over. He has upside to his game and his durability means lot to him. His ironman streak as a starter stands at 64 games.
It's easy to forget he had a knee injury in training camp that threatened his availability for opening day. Smith said his body said he probably wouldn't make it to New Orleans but his mind wouldn't go there.
"I really didn't think my streak would be in danger. Thank God it happened when it did in preseason so I could get an extra week and a half, two weeks of doing nothing to get it back healthy," Smith said. "That really helped out. I was here three or four times a day in rehab to get it right. This whole season I wasn't 100 percent, and I don't think anybody is or was, but that's just the game."
The streak is a point of pride for Smith, who doesn't like to miss a practice snap, either.
"It's huge. Lotta miles on my body. It's a great milestone, just gotta keep going," Smith said.
As for getting paid by the Bucs as a free agent, Smith said there's nothing in the works and now that the season is over he'll have the time to dive into the business side of thing with coaches.
What's next for Smith, Joe believes, likely comes down to what the next head coach wants. But among the list of the Bucs' desired upgrades, Joe suspects Smith is far down the totem pole. Plus, the Bucs can always franchise him for next season, roughly $15 million, and see how/if Smith raises his game with fresh coaching.