Dirk Koetter's Market Value
December 11th, 2018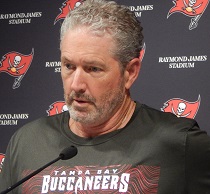 Joe doesn't know any Bucs fans personally who believe Dirk Koetter is a good NFL head coach, but these people do exist.
And Joe has one poignant question for them.
When Black Monday comes in 20 short days and Koetter is fired, what other NFL team will desire him for their vacant head coaching position?
The answer is simple: none.
Just like Greg Schiano and Lovie Smith before him, NFL Owners will not come calling after studying Koetter's body of work, which now stands at 11 wins in his last 32 games.
This is Exhibit H in the evidence bag of reasons why Koetter will be launched and Bucs fans will be re-injected with real hope.
You remember hope; you felt a shred of it Sunday against the Saints. And then somehow Koetter's team got drilled and completely imploded in the second half allowing 25 unanswered points at home after leading 14-3 at halftime.
Koetter is one of a few men in NFL history that can claim they called plays for three top-10-ranked offenses — for three different franchises.
It's a tremendous achievement and Joe hopes Koetter calls plays for another NFL team next season and faces the Bucs. It would be a lot of fun, and it likely would keep Jacquizz Rodgers employed, and Joe's a fan of Rodgers' unrelenting effort.