Bucs Heart Still Beating In Playoff Chase
December 11th, 2018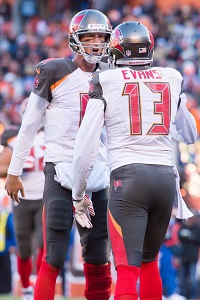 The optimists around us make the world a better place, so Joe will feed them a hearty breakfast this morning.
Yes, our beloved Buccaneers are alive — but not well — in the hunt for the final NFC Wild Card berth.
Sure, the Bucs certainly would have to win a nightmare matchup against a sledgehammer physical Ravens team in Baltimore on Sunday. Then they'd have to beat arguably the hottest team in the NFL in Dallas. If the Bucs could climb those mountains, then they'd exhale at home against a bad Falcons team.
Those three potential wins would close the Bucs' season with an 8-8 record, and that actually might be good enough.
The Vikings, after getting beaten down last night in Seattle, hold the final NFC playoff spot at 6-6-1. They close the season at home against Miami, then at rival Detroit and home for the hard hitting Bears. If they can't win two, that could give the Bucs an opening.
However, blocking the Bucs now are the quarterback-starved Redskins, Eagles and Panthers, who still play the Saints twice. They all sit at 6-7. The Bucs hold the head-to-head tiebreaker edge on the Eagles but not the Skins.
There's also the Packers ahead of the Bucs at 5-7-1. They play at the Bears on Sunday.
The Giants are at 5-8 and own a tiebreaker edge on Tampa Bay by virtue of beating the Bucs last month.
Again, Joe always must tip his cap to the warm-hearted optimists, especially the innocent young children involved who are still nodding and saying, 'We can do this.'
Once upon a time, Joe was one of those kids.