Dirk Koetter's 7 Deadliest Sins
December 30th, 2018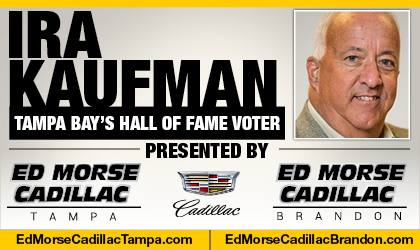 BY IRA KAUFMAN
Every NFL coach makes mistakes, even you, Mr. Belichick. Remember how Gronk tried to make that game-saving tackle in Miami?
But the elite head coaches always seem to be ahead of the game. They excel at time management, they put their players in position to succeed and they adjust game plans from week to week.
Dirk Koetter didn't distinguish himself in any of those key areas, so the Bucs are moving in yet another direction with yet another coaching staff.
Koetter becomes the fifth head coach fired by the Glazers in the past decade, so here's a look back at the man's 7 deadly sins in Tampa.
No. 7 – Depth chart errors
Whether it was sticking with Doug Martin too long or starting Swaggy Baker ahead of Clinton McDonald, Koetter appeared too stubborn to make necessary changes. Moving Ali Marpet to center was an illogical move from the start, costing a young core player a year of further development at his natural guard position.
No. 6 – Coming up short
After last year's 5-11 finish, Koetter pointed out how competitive the Bucs were in so many games. A play here, a play there, and that record could have looked a lot different, he said. Well, here we go again.
The Bucs were 1-4 last season in games decided by 3 points or less and they finished 1-4 again in that category in 2018. Good coaches find a way to win the close ones. Those that don't are eventually shown the door.
No. 5 – Road woes
How can you beat the Saints in the Superdome in Week 1 and then drop your next seven road games? That doesn't make sense, but Tampa Bay just went 1-7 on the road for the second consecutive season. The culprit? Awful starts. In the first half of road games this year, the Bucs were outscored 189-99. That's not competitive. That's not acceptable.
No. 4 – Nowhere to run
As offensive coordinator in 2015, Koetter orchestrated a well-balanced offense that featured a punishing ground game. Martin and Charles Sims each averaged 4.9 yards per carry for the NFL's fifth-ranked rushing attack. But in Koetter's three seasons calling the shots, he has been unable to develop a credible ground threat. Opposing defenses simply don't respect Tampa Bay's play-action. Would you?
No. 3 – Where's the creativity?
When you watch teams like Chicago, Atlanta and Carolina, blessed with less firepower than the Bucs, you see imaginative offenses with players in motion and constant misdirection. You see option passes, screens, draws and funky formations designed to generate doubt. The Bucs had a very effective screen game in 2015. Where has it been for the past three seasons?
No. 2. – Loyalty 
The bond between Koetter and Mike Smith is a powerful one, going back to their days together in Jacksonville. They were an effective tandem in Atlanta and Smith's defense in Tampa had some impressive moments in 2016.
But the Buc defense ranked last in 2017 and that should have put Smith on notice. Koetter gave him another chance to turn things around, only to see Smith's group struggle anew in the opening month.
Yet instead of dumping Smith after Week 4, giving Mark Duffner extra time to make changes during a bye week, Koetter stuck with Smith in Atlanta. Wrong move. The Falcons promptly scored touchdowns on their first three possessions as Smith squirmed from the press box and the Bucs fell below .500.
No. 1 – Jameis, Jameis, Jameis
The main reason Koetter got the job was his solid work with Winston in 2015. Ownership believed Koetter was the right teacher to develop the No. 1 overall pick into a franchise quarterback, but it hasn't happened.
Winston's suspension didn't help, but he never found a chemistry with DeSean Jackson and he was so far off his game in Cincinnati that he was benched for the following three weeks.
Once again, Koetter's timing proved to be off. With Ryan Fitzpatrick playing poorly, Winston should have been reinstated under center at the Meadowlands. Instead, Fitzpatrick was picked off three times by the Giants before Winston led a second-half rally that fell just short.
---
A FIRING NIGHT ADDRESS ON TAMPA TWO
It's a firing-night TAMPA TWO address! As always, TAMPA TWO is presented by Caldeco Air Conditioning & Heating and is a production of The Identity Tampa Bay.