Dirk Koetter's Unmagic Number: 14
December 2nd, 2018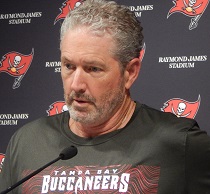 Besides the ineptitude of Ryan Fitzpatrick, there's another reason the Bucs got thumped by Carolina four weeks ago, 42-28.
Dirk Koetter taked about it Friday night on the Buccaneers Radio Network.
The head coach was lamenting 14 missed tackles in that game. Fourteen! That was the Bucs' in-house count, Koetter explained, and he called it "just way, way, way too high." It's been a major focus in advance of today's game, he added.
Maybe the Bucs can cut that in half today. Their tackling was better against the 49ers and 14 is freakin' unthinkable.
Seven missed tackles would still be too many, but with Cam Newton and Christian McCaffery on the field, it's understandable.