Bucs Getting Healthy
December 19th, 2018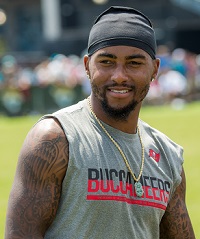 If you don't count the Bucs piled up on injured reserve, the team is actually quite healthy by NFL standards.
For starters, the entire starting offensive line is intact.
That's a true NFL rarity this time of year.
The Bucs released their first injury report of the week today and DeSean Jackson was back at practice today in a "limited" capacity. Apparently his tender thumb is feeling pretty good.
Gerald McCoy (shoulder) and Demar Dotson (knee) were limited, as well. And Jason Pierre-Paul (knee) appeared to get a typical day off.
No other Buccaneers were listed.
Nine Cowboys have reported injuries. The Bucs head to Dallas for a 1 o'clock game on Sunday.