Ira Kaufman's 10 Takeaways From Bucs-Panthers
December 2nd, 2018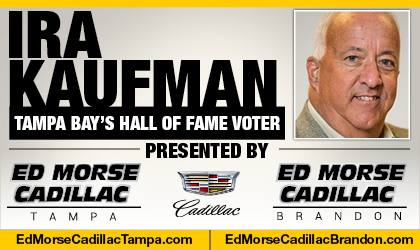 BY IRA KAUFMAN
There's no asterisk on this one.
This wasn't the Browns or the 49ers coming to town, bad teams ready to roll over on the road. This time, it was a Panthers team saddled with a 3-game losing streak, fighting for their Wild Card lives.
And guess what? The Bucs outplayed them en route to Tampa Bay's most impressive effort since a Week 2 victory against the Eagles.
Once again, complementary football was on display as Jameis Winston turned in another clean sheet. The Bucs were the more aggressive team — and Cam Newton has the bruises to prove it.
Tampa Bay started fast and never trailed in emerging from the NFC South cellar. In improving to 4-2 at home, the Bucs pulled within one game of the reeling Panthers as their attention turns to Drew Brees and the Saints.
Even Dirk Koetter allowed himself a smile, albeit a brief one, on the way to the post-game locker room. That kind of says it all for a franchise that hasn't had a lot to smile about during this lost decade.
Here's how the Bucs beat up on Carolina and advanced to the fringes of the NFC Wild Card chase:
* Lavonte David made a loud return after missing two games with a knee injury, leading all tacklers with 12 stops and shaking up Cam Newton with a big-time sack on the final play of the opening quarter. On days like this, we are reminded that David has it in him to be one of the league's premier 4-3 outside linebackers.
* Winston is no speedster, but he has outstanding pocket presence and quick feet. He continually buys himself time and he scampered for 48 yards on five carries, outgaining Newton on the ground. Without Winston, the Bucs would have averaged only 2.3 yards per rushing attempt.
* Tampa Bay's third-down defense has enjoyed a stellar two weeks. The 49ers converted only 1-of-8 and on Sunday, the Panthers were 1-for-5 through three quarters before finishing 3-for-8. The difference? A more aggressive mindset instilled by Mark Duffner that forces quicker decisions by opposing quarterbacks.
* The Bucs had an opportunity to build a 10-point lead early in the second quarter when officials ruled Peyton Barber fumbled at the goal-line. Replays from various angles appeared to show Barber extended the ball across the plane for a TD before losing possession. Poor job by the zebras, but good job by the Bucs overcoming the adversity.
* Even before the opening quarter was in the books, I saw Jason Pierre-Paul lined up at three different positions — defensive tackle, left end and right end. That's smart football by Duffner and defensive line coach Brentson Buckner, capitalizing on the big man's versatility. Why let Carolina's offensive front know where JPP will start his engines from?
* Mike McCarthy was asked to turn in his key card Sunday and Ron Rivera may not be far behind. The Panthers haven't been the same since improving to 6-2 by beating the Bucs 42-28 in Charlotte. With two games remaining against New Orleans, Carolina could end up falling short of a postseason berth. Let's remember that new owner David Tepper has no history with Rivera.
* The Duffner effect wasn't evident in the first three games after he replaced Mike Smith, but the Bucs have allowed an average of 20 points in the past month. In the same span, this defense has been ravaged with injuries to the back 7. A secondary that lacks experience is suddenly teeming with youthful enthusiasm.
* As if the Bucs needed another reason to move on from DeSean Jackson in 2019, we witnessed fresh evidence that Chris Godwin is an emerging star. Godwin caught 5 of the 6 passes sent his way for 101 yards, including a 13-yard TD reception on Winston's play of the day.
* Tampa Bay's passing game has the kind of enviable balance coordinators dream about. Godwin, Mike Evans, Adam Humphries and O.J. Howard already have 5 TD catches apiece while Jackson and Cameron Brate have scored four times on receptions. Few teams have done a better job spreading the ball around.
* The crowd was disappointing, especially when you consider the Bucs gave away boatloads of tickets for this game, but Tampa Bay's defense continues to shine at home. This home-away disparity is mind-boggling: Buc opponents average only 19 points at Raymond James Stadium as opposed to 40 points when Tampa Bay is the visiting team. Let's see what happens to those numbers when Mr. Brees struts into town, seeking revenge for that Week 1 shocker.
Now in his 40th year covering the NFL, Ira Kaufman is the most revered sports personality and writer in the Tampa Bay area. He scored a full-time seat at JoeBucsFan.com world headquarters in July of 2016, and Tampa Bay's only Pro Football Hall of Fame voter busts out columns here every Monday, Wednesday and Friday. His  award-winning podcasts fire Tuesdays and Thursdays. You can also hear Ira on SiriusXM Mad Dog Radio Wednesdays at 5 p.m. Also a TV star, Ira is part of the FOX-13 Tailgate Sunday NFL show at 10:30 a.m. "The Sage" enjoys beet salads, Riesling, tennis, Bette Midler, Chiefs victories and needling Joe. …Don't forget to WATCH IRA AND DERRICK BROOKS on the new TAMPA TWO show from The Identity Tampa Bay and JoeBucsFan.