Becht: QB Is No. 1 Offseason Priority
December 19th, 2018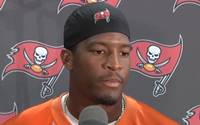 Respected ex-Bucs tight end Anthony Becht, who collects a paycheck for his work on the team's official website, is not a guy you'd call sold on America's Quarterback, Jameis Winston.
Speaking on WDAE-AM 620 this week, the veteran of 11 NFL seasons specifically was asked what the Buccaneers' offseason priority should be.
Becht was very direct.
"Well, you know, your quarterback situation, you need a guy that can do it for you consistently week in and week out," Becht said.

"And look, quarterbacks are going to have bad days, guys. I get it. Tom Brady didn't look real good last week and the week before. I mean, you know the best of the best have bad days, but you can't have them in four or five straight games. You can't have turnovers every week. You can't put your team in mistakes where you defense is put into binds and and then all of a sudden teams are dropping 35, 40 points on you because they got short field position."
Ouch. What a kick in the gut to Jameis fans.
Becht went on to say the Bucs need to keep "loading up" on the defensive line, especially given the age of the linemen and a spotty year from free agent DE Vinny Curry. He also talked about keeping the offensive line strong, but specified players are needed who will be accountable and play consistent football.
---
Yes!!!! It's a fresh episode of TAMPA TWO, starring Mr. Derrick Brooks and Ira Kaufman, presented by Caldeco Air Conditioning and Heating. You can watch it right here or at The Identity Tampa Bay. Brooks gets into some great talk about the Bucs' culture.
The fans are not holding back with their questions.