"Vita Vea Is Not A Pass Rusher"
November 6th, 2018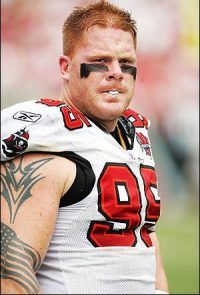 Another former Buccaneer has weighed in on his beloved Bucs with strong opinions.
This time it's retired defensive tackle Chris Hovan, who spent five seasons with Tampa Bay (2005-2009) and has coached at the college and pro levels.
Hovan lives full-time in Tampa and keeps a close eye on his former team.
Speaking to Rock Riley on 1040 AM yesterday, Hovan was very reasoned with his Bucs takes. He had little to say about America's Quarterback, Jameis Winston, because, Hovan said, he's not much of an expert on offense.
It was on defense where Hovan weighed in. "I feel like all the guys aren't believing in the system right now," adding that he doesn't think the Bucs have figured out an effective D-line rotation.
Hovan said "Vita Vea is not a pass rusher," and Hovan has no problem with that. Hovan wasn't much of one either, he said, noting he believes the Bucs should let Vea focus on rushing down and distances as he adjusts to the league.
Of course, after Vea was drafted, Koetter was adamant that Vea can rush the passer. "Just turn on that Washington State game," Koetter implored.
So far, Vea's pass rushing prowess has yet to emerge for the Bucs. Still plenty of time for him to develop, though.