SIX Days From The Ultimate Black Friday Deal
November 17th, 2018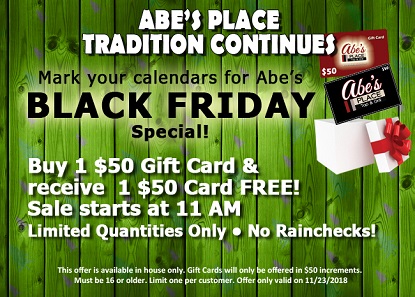 We're just SIX days from this amazing annual offer at Abe's Place in Clearwater, Joe's home away from home.
It's so simple, and there is no catch. You guy a $50 gift card and you get one free. Feel free to use them immediately! It's an annual Abe's tradition that kicks off at 11 a.m. on Black Friday, Nov. 23. (See details above)
Does anyone have better wings than Abe's? No chance. They win award after award, and the homemade sauces are spectacular. People literally drive from the across the Tampa Bay area to savor their historic wings. But the rest of the menu is what really attracts Joe. Click above to check it out. It's huge!
Remember you can watch a full slate of college football and NFL games at Abe's, too.