Kwon Alexander Had Surgery This Week
November 17th, 2018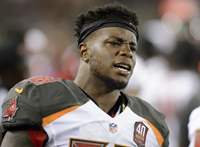 Guys with blown out knees rarely go under the knife immediately after the injury.
Joe's not about to play doctor here, but the timing is often about reducing swelling first. Kwon Alexander tore an ACL four weeks ago and he had a surgery a few days ago, Dirk Koetter said last night on SiriusXM NFL Radio.
Kwon becomes a free agent the moment the 2019 NFL League year starts in mid-March.
The Bucs will have a decision to make on their talented 24-year-old linebacker who also missed half a season last year with a hamstring injury, and four games of the 2015 season with a performance-enhancing-drug suspension.
If Kwon, say, had ACL surgery on Nov. 14, would he be ready nine months later to take a preseason snap, or for any on-field work in training camp under his new defensive coordinator and head coach?
Tough call for the Bucs.