"I Think The Players Gave Up On Koetter"
November 20th, 2018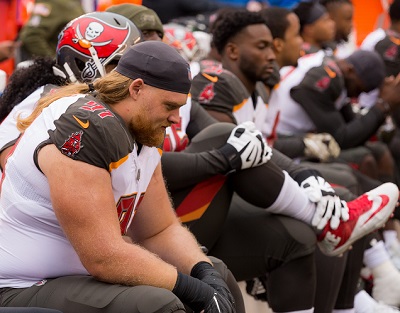 Daggers are being thrown at Dirk Koetter from all angles — and they're getting sharper.
Two weeks ago, former Bucs defensive tackle Chris Hovan said Tampa Bay defensive players don't believe in their system and Vita Vea is not a pass rusher and Bucs coaches should embrace it.
Ok, who could have argued with that?
Today, Hovan took his critique a giant step further. Intelligent Bucs fans heard him with Rock Riley on 1040 AM, the best sports radio show weekday afternoons in the Bay area. Hovan is an occasional guest and you could hear the passion and disgust in his voice.
Hovan sees a 2018 Bucs team that has a whole lot of quit in it.
"When the passion isn't there, that starts at the top," Hovan said.

"I think the players gave up on [Dirk] Koetter."
There was plenty of chatter from Hovan about him just not seeing a hungry team on the field, especially on defense.
Hovan said he wasn't going to name names, but then he kind of did when nudged by Riley.
Riley said Jason Pierre-Paul is playing well, and Hovan replied enthusiastically, "9 1/2 sacks."
Then Riley suggested Gerald McCoy was having a decent season to which Hovan replied, "No, dude. C'mon, man."
No need for Joe to pile on here with all of Hovan's commentary, but it can be boiled down to an ex-Buc known for his intensity who is shaking his head at what he considers bad effort by too many overpaid players.
This is all rather striking since Hovan was very upbeat on the Bucs earlier this season and typically is a pro-player guy.
Hovan added that while he sees positives in Jameis Winston, he thinks the Bucs are best off moving on at quarterback with a new head coach.