Jameis Reaches Civil Settlement Agreement With Uber Driver
November 27th, 2018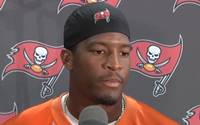 Was it a money grab or a crotch grab?
We'll never know. 
For those who forgot, America's Quarterback, Jameis Winston, has a pending civil suit against him for alleged inappropriate sexual touching of a female Uber driver while in the drive-thru line of a fast-food restaurant in Arizona back in March 2016.
The NFL investigation into the matter got Jameis a three-game suspension to start this season and a list of behavior demands from NFL strongman Roger Goodell, despite no arrest or witnesses to the alleged impropriety.
TMZ Sports today says Jameis and the Uber driver have agreed to a settlement, per papers filed in federal court.
Two years later, the woman — who goes by "Kate P." in legal docs — filed suit against the Tampa Bay Bucs quarterback.

In new docs filed in federal court in Arizona on Nov. 26, the woman's lawyer says "Plaintiff has reached an agreement with Defendant to resolve her claims."

"The parties are in the process of finalizing a settlement agreement but need approximately 10 days to complete this process."
A wise but depressing move by Jameis.
He needed to get this cleared up so his career could move forward smoothly. But it's another tacit admission of guilt in another terribly sleazy situation. The Jameis faithful won't get their day in court, where the Uber driver, with no substantial evidence, would have somehow had to prove Jameis did something wrong.
Up next, the Panthers and legions of Bucs fans shaking their collective heads.