Peyton Barber: Inconsistent Effort Sinking Bucs
November 18th, 2018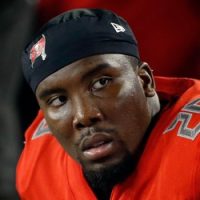 The warrior in the Buccaneers' backfield appeared to be the last player out of the trainers' room tonight in the bowels of MetLife Stadium.
Joe was waiting for him.
Peyton Barber had a hell of a game against the Giants, 18 carries for 106 yards and a touchdown. It was the biggest single-game yardage output of his career and he ran hard, as usual.
"Part of me feels good but the other half knows it doesn't mean anything unless it's a win," Barber said.
Barber admitted he felt some extra juice and desire wanting to match the big day rookie running Saquon Barkley had against the Tampa Bay defense, but Barber said he's always pumped up to outplay the opposing back.
"Coaches just kept feeding me, and I feel like once I get the hot hand I'm kind of hard to stop," said Barber, who agrees with Dirk Koetter when he says Barber only needs more touches to hit another level of performance.
As for the struggling Bucs and their 3-7 record, Joe asked Barber what's the difference between winning and losing with this team. And the answer opened Joe's eyes.
The soft-spoken Barber went to the effort card.
"We got to play hard for 60 minutes. We can't play hard for spurts of the game. We got to play hard for the whole game," Barber said.

You can feel those differences in effort in a game? Joe asked as a follow-up.

"Oh, yeah. Oh, yeah. We also got to pick each other up," Barber said. "When the defense isn't doing well, we got to score points. When [the offense is] not doing well, the defense has to make stops. It goes hand in hand."
Koetter has pleaded with his team to put together a complete game, 60 minutes all phases. That hasn't happened yet.
And while Koetter says the effort is there — he repeated that today after the game — it seems his bellcow running back thinks it could be a little better.