Opportunity Opens To Put DeSean Jackson On Injured Reserve; Bucs Should Pounce
November 26th, 2018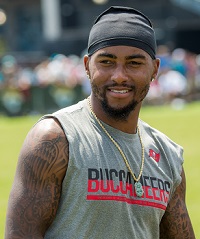 Timing is everything.
Across the NFL, it's the time of year when general managers of teams eliminated from the playoffs, or nearly eliminated teams, are quick to put players on injured reserve so they can call up practice squad players to protect them through the offseason. "Protect" here means not expose them to sign with other teams when the season ends.
Today at his afternoon news conference, Dirk Koetter acknowledged that DeSean Jackson has a thumb injury and has seen a local hand specialist. Also, Koetter said, Jackson will head to New York tomorrow to visit with a medical specialist about his hand.
Whatever is wrong with Jackson's thumb, it's time to shelve him for the season.
Jackson wanted out via trade last month. And he spouted off on social media last night as if he still wants a trade. Putting him on injured reserve is the best option for everyone.
The Bucs wouldn't have to cut him and potentially still could trade him after the season, though it's doubtful another team would want to assume his $10 million salary for 2019.
Also, if Jackson hits IR now, then the team won't have to worry about Jackson being divisive through the final five games, and potentially a new Bucs regime could decide to keep him.
It's the easy way out of what appears to be an escalating situation.
Pounce on it, Bucs. Pounce!