Kwon Acknowledges Pro Bowl Pitch For Bradley McDougald
November 30th, 2018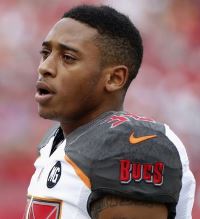 Last night, Joe watched last Sunday's Panthers-Seahawks game and got a good look at why there's so much love for ex-Bucs safety Bradley McDougald in Seattle.
It gave Joe a headache. And that prompted Joe to do some digging on McDougald's well-documented success story with the Seahawks after the Bucs let him walk following the 2016 season.
Joe found a new chat transcript, a Q&A session this week with Seahawks beat writer Bob Condotta of the Seattle Times.
In addition to saying McDougald's stock is high in the Seahawks organization, Condotta referenced how McDougald had other offers in 2017 free agency. Ironically, Condotta said he believes McDougald's strong game for the Bucs against the Seahawks that season was a factor in him signing with Seattle. And, (gasp!) he made a Kam Chancellor -McDougald comparison and said McDougald might be "a better fit" against some teams.
Joe had no plans to write about McDougald today until Joe saw Kwon Alexander served up two "reTweets" of pitches for McDougald to get your Pro Bowl vote.
One pleading was from what appears to be a fan, and the other was from McDougald himself.
So it seems the guy labeled the heart and soul of the Bucs defense, Kwon Alexander, had plenty of respect for McDougald and thought he was a valuable piece of the Bucs' puzzle.
Painful stuff.
Joe believes McDougald, who turned 28 this month, represents a clear mistake by the Bucs hierarchy. He started every game in 2016, so he was a cog in the Bucs' No. 1-ranked, third-down defense.
What happened? Did Mike Smith not like him? Did Jason Licht think McDougald was overpriced in free agency while thinking he would score Justin Evans in the draft? Reports in 2017 had McDougald signing a 1-year, $2 million contract with the Seahawks a couple of weeks after the free agency dinner bell rang.
Former Bucs general manager Mark Dominik talked yesterday about how he thinks Team Glazer will evaluate the current Tampa Bay front office. Joe wonders if the McDougald call will get any scrutiny.
---
DERRICK BROOKS ANSWERS YOUR BUCS QUESTIONS! It's another can't-miss TAMPA TWO from The Identity Tampa Bay and JoeBucsFan.com, presented by Caldeco Air Conditioning & Heating.