Koetter Likes What He Sees On The Left Side
November 7th, 2018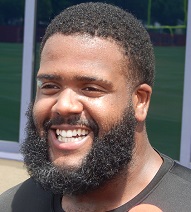 Life is good on the left side of the Buccaneers' offensive line through the first half of the season, so Dirk Koetter proclaimed today.
Tampa Bay's only Hall of Fame voter, Ira Kaufman, asked Koetter today about this year's pairing of Ali Marpet and Donovan Smith at guard and tackle, respectively, and how they've performed.
"Good. They've really meshed well together. They communicate well," Koetter said. "You know, there's plays where they both have issues because they're playing against good guys on the other team, but for the most part they've done a good job."
So there you have it. Success rules the day on the left side of the O-line, per the head coach.
At this rate, ironman Smith is on his way to a gargantuan new contract when his contract expires after this season. If Koetter's evaluation is to be trusted, someone somewhere will open up the vault for a quality left tackle.
Now if only the Bucs could pound the rock consistently somewhere between Smith and center Ryan Jensen, this offense could put up record numbers.