Koetter Clashes With Ex-Buccaneers
November 3rd, 2018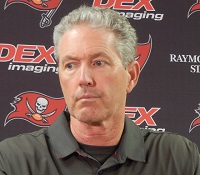 Joe needs more than one hand to identify the former players, including ex-Bucs, who are certain that Jameis Winston's mechanics are suffering.
A fresh name was added to the list yesterday morning, and Dirk Koetter expressed his disbelief 10 hours later.
Buccaneers Radio Network analyst John Gilmore, the paid-by-Team-Glazer former tight end, was clear about Jameis on WDAE-AM on Friday morning, "It seems to be a mechanical thing," Gilmore said. He added it's "what I see on tape," referring to floating the football and other troubles.
Koetter has heard the mechanics chatter and seems to think mechanics are not failing America's Quarterback.
The head coach weighed in multiple times on his Buccaneers Radio Network show last night. "I'm not one of these people buying into this mechanical thing," Koetter said. That came after he said, "I'm not sure where this mechanics thing is coming from."
If Koetter wants a clearer understanding of Jameis' mechanical issue, Joe would wholeheartedly recommend Koetter call former Bucs and Patriots QB Jeff Carlson, who also piled on Jameis' mechanics this week.
Carlson is a first-class guy who lives locally and has devoted decades to teaching quarterbacks. Joe has interacted with Carlson many times and there's no doubt, in a matter of minutes, he could identify and diagram various issues with Jameis.
Is that a stone Koetter is willing to turn over?