Keep An Eye On John Harbaugh
November 4th, 2018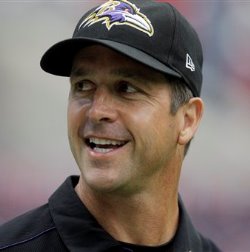 Bucs fans know what the horrid stink of a sinking franchise smells like.
We were shocked by it in December 2008. And we inhaled it in 2011, and then swallowed it whole in 2013 before being told to embrace it as 2014 came to a close.
It's back on the menu again — with no Lysol in sight.
Intelligent Bucs fans know exactly how this ends in eight weeks.
Joe always roots for the Bucs when the whistle blows, and Joe likes Dirk Koetter. But barring a football miracle, there will be a new head coach next year.
Hot seat season is in full swing and the seat under Super Bowl-winning Ravens head coach John Harbaugh is sizzling. NFL Network delivered the story this morning and Harbaugh lost to the arch-rival Steelers today, dropping the Ravens to 4-5.
It's Harbaugh's 11th season leading Baltimore and he's had just one losing season. Overall, he's 98-71 in the regular season and 10-5 in the playoffs with one Lombardi Trophy on his resume.
The Bucs could do a lot worse, if they're looking.
It always seems like teams look for a head coach who is a lot different than the coach they just launched.
Team Glazer turned to Raheem Morris after Chucky. Then they went to freakish disciplinarian outsider Greg Schiano after Raheem's party regime. After Schiano, it was back to the glory days with established, defense-first Lovie Smith before they turned to Dirk Koetter, a first-timer with little interest getting involved on that side of the ball.
Harbaugh, a special teams/defense guy, sure feels like a big contrast to Koetter.
Joe likes the idea of a seasoned head coach battling against the beastly coaches in the NFC South.
Sean Payton is elite. Ron Rivera has three division titles and a Super Bowl appearance in his first seven seasons. And Dan Quinn has yet to have a losing season in Atlanta since taking over in 2015. He's been to the Super Bowl, too.
The strength of that troika should be considered in any coaching search.