"I Just Knocked Him Off His Landmark"
November 30th, 2018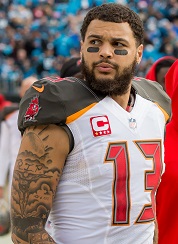 Payback. Revenge. A skill refinement.
Something big is expected Sunday and it seems they know all about in Charlotte.
Mike Evans was shut down three Sundays ago by Panthers cornerback James Bradberry, a late second-round pick in 2016. Evans was rendered invisible, one catch for 16 yards on a whopping 10 targets.
It was his worst game of the year and Dirk Koetter even called him out publicly.
Evans credited Bradberry, who the Charlotte Observer newspaper noted fell off his game after locking down Evans.
▪ He was beaten badly by Pittsburgh's JuJu Smith-Schuster, who caught a 72-yard touchdown on the Steelers' first play of the game in Week 10.

▪ He allowed two third-and-long conversions and the go-ahead touchdown to Detroit's Kenny Golladay in Week 11.

▪ And he lost track of Seattle's David Moore for a 54-yard gain on third-and-12, which led to a Seahawks touchdown three plays later in Week 12.
Bradberry knows the rematch is coming and explained what worked for him when he held Evans to one catch for 16 yards.
"I think I just knocked him off his landmark," Bradberry said. "In each offense, you're going to run certain routes and have certain landmarks — I think I was just knocking him off his landmark because I was able to get up there and press him. That was pretty much my goal.

"It can also be a bad thing, too, because if you miss it might be over with. You've got to make sure you get your hands on him and slow him down, that's pretty much the whole goal when you get up there on the line."
Joe sees a disaster looming for Bradberry, and Joe even suggests Evans will get in his head on Sunday at the Stadium on Dale Mabry Highway.
Joe believes it's likely America's Quarterback, Jameis Winston, knows a revenge day is in order for Evans. So Joe hopes calm and cool Jameis shows up and resists temptation to force anything to No. 13.