JPP Goes Back To The "Club"; Wounded Buccaneers Return
November 15th, 2018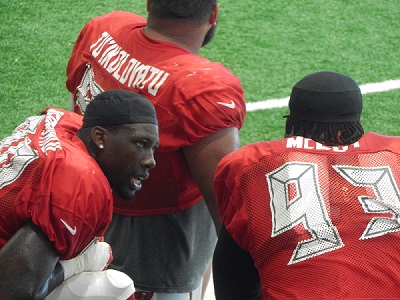 Change seems imminent along the Buccaneers' defensive line.
Joe's making that statement after watching a chunk of practice today.
First, Carl Nassib was back after sitting a day with an elbow injury. Today he was wearing some sort of contraption on his left elbow that didn't appear to hinder him. Vinny Curry, who missed last week's game — and three of the last four — with an ankle injury, was back on the practice field after missing yesterday's session. Curry looked spry, so it appears he and Nassib will play Sunday.
Jason Pierre-Paul was seen with a club on his right hand (see Joe's photo on Twitter below).
That's the hand missing digits. It's the first time Joe can recall JPP going to the club with the Bucs. Many Giants fans and analysts think the protective club he used while playing for them following the fireworks accident limited his ability.
Perhaps JPP is just trying to mess with the Giants' heads. Stay tuned!
JPP goes back to the club on his right hand, the one missing digits. Many Giants fans think he didn't play as well with it on. pic.twitter.com/CGEBudAnGI

— JoeBucsFan (@JoeBucsFan) November 15, 2018