Jim Schwartz "Best Fit" To Replace Dirk Koetter
November 27th, 2018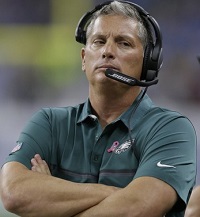 Dirk Koetter remaining head coach of the Buccaneers in January is about as likely as Joe not drinking a beer while enjoying an afternoon of college football at Abe's Place.
Maybe Koetter has a 10 percent chance as of today. (Hey, Joe gets in a vodka mood once in a while).
Joe's not rooting against Koetter, but Koetter is going to have to win three of the next four games to even get Team Glazer's attention, Joe believes. That would give the Bucs some NFL-shocking victories and a 7-8 record.
More likely, Team Glazer already is in full coach-hunting mode and preparing to pounce when the dismissal bell rings on the this season.
Joe already has written about John Harbaugh, Bruce Arians and John DeFilippo, and today Bleacher Report was pairing Eagles defensive coordinator Jim Schwartz and the Buccaneers.
The former Lions head coach and Bills defensive coordinator has a tough-guy reputation and a new Super Bowl ring that would command a lot of attention in the Tampa Bay locker room.
In a year dominated by offensive coaches, Jim Schwartz is the best true defensive candidate on the board.

Schwartz, now with the Philadelphia Eagles, was the head coach of the Detroit Lions between 2009 and 2013, but many in the league feel he didn't get a fair shake there. Said one top-level front office member, "I think you can look at the lack of success after [Schwartz] there and realize a lot of the issues weren't his."

After strong stints with the Bills (2014) and the Eagles, Schwartz is once again a viable candidate. And at only 52 years old, he's still considered young enough to have the energy for a rebuilding process. That's actually one thing potential employers like about him. "If you want a tough SOB to come in and run out the weakness on your roster, he's the guy to do it," said one former general manager who now helps consult with owners for new hires.

Schwartz will have to prove that his time in Detroit isn't representative of his abilities, but in a year without a go-to candidate with a strong defensive background, he could benefit from being the most likely option.
Joe pleaded on these pages for Dirk Koetter to hire Schwartz as defensive coordinator back in 2016. So Joe is a big Schwartz fan.
His time with Detroit was marked by big highs and lows, but he did take over a winless team and had them in the 2011 playoffs with a young quarterback in his third season.
One thing Team Glazer could be sure of. This Bucs defense would improve in a hurry under Schwartz.