Eyeing John DeFilippo
November 26th, 2018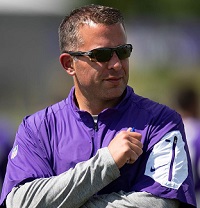 Yes, the Bucs' playoff fantasies are alive, but it's far more likely that Tampa Bay will be eager to name a new head coach in 35 short days.
And a hot name in that realm is offensive guru/quarterback whisperer John DeFilippo.
His work was on display last night against the Packers on Sunday Night Football. DeFilippo, chosen this offseason as the man to lead the Vikings offense by defense-first head coach Mike Zimmer, is guiding Kirk Cousins to his best season, which included the "W" to push Minnesota to a 6-4-1 record.
Cousins is completing 71 percent of his passes with 22 touchdowns and 7 interceptions.
DeFilippo, 40, came to the Vikings after two years coaching Eagles quarterbacks, handpicked for the task by a former NFL quarterback, Eagles head coach Doug Pederson.
In 2015, the Browns made a bold hire and named DeFilippo their offensive coordinator. His gift? Josh McCown and Johnny Manziel as quarterbacks. The marriage lasted a season.
A super high-energy guy, DeFilippo would be considered the hot young name in the head-coaching pool. He interviewed for the Bears' top job last year. It's just a matter of when he gets his shot.
Before last night, the Vikings offense was under scrutiny in Minnesota. DeFilippo had a tough act to follow after Pat Shurmur, and then arriving to a team with Super Bowl dreams and a brand new QB. Joe likes that DeFilippo had to deal with an intense microscope from Day 1 this season — and he's passed the test.
As for Team Glazer, nobody really knows what type of hire they would want to make.
If they want a big name with a long track record to replace Dirk Koetter, DeFilippo won't be their guy. If they desire an offensive guru with a solid shot at being the next Sean McVay, then DeFilippo might top their list.
Joe has been studying DeFilippo and is very intrigued. The son of a coach (just like Dirk Koetter), DeFilippo has a ton of experience for a young guy and he'd certainly transform the energy at One Buc Palace.
He might also be the best choice on the market for America's Quarterback, Jameis Winston.
That victory last night, though, might hurt DeFilippo's chances with the Bucs. The Vikings are the top Wild Card seed now and the Bucs might get scared off by potentially hiring a young head coach late in the hiring season because his team is in the playoffs. That makes it harder for the new HC to compile a quality staff.
Enjoy the video below from DeFilippo's days with the Eagles and grooming Carson Wentz.