Ira Kaufman's 10 Takeaways From Bucs-Giants
November 18th, 2018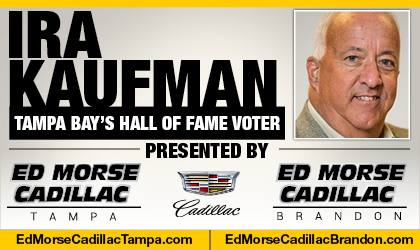 BY IRA KAUFMAN
Dirk Koetter said last week's decision was close. This one shouldn't be.
If Koetter has the audacity to announce Ryan Fitzpatrick as his starter Sunday against the 49ers, it can mean only one thing – the man wants to get fired.
This one's a no-brainer, but then again, I thought Winston was the obvious choice under center at the Meadowlands. Instead, Koetter went with a fading Fitzpatrick, who has clearly run his course this season.
Give Fitzpatrick his due. He was spectacular at New Orleans and very good against the Eagles, providing this franchise with a heck of a getaway.
But the regression has been pronounced and he has lost his last five starts. As for Sunday's setback, nothing to see here, folks. Another sluggish start, another no-show by the defense on the road and another heinous act of self-destruction.
Here's how the Giants gave up more than 500 yards and emerged victorious, a familiar script for Tampa Bay opponents.
* Buc fans from Pinellas Park to Plant City realized Fitzpatrick was in a major funk, yet Koetter benched Winston yet again. If this franchise has turned the page on Winston, he wouldn't have been active Sunday, so there was no point in sticking with a guy who rightfully figured his days as a starting QB in this league were behind him. Fitz is what he is — a very good backup and emergency starter.
* Peyton Barber just turned in the best game by a Buc running back in many a year. He squeezed out every available yard … and then some. The run blocking was better and Donovan Smith had himself a good afternoon. It was a treat to see Barber register a rare rushing TD, begging the question: why didn't he get the ball on that failed 4th-and-1 snap early in the game?
* If you didn't notice Vita Vea, you're not alone. The game summary says he played, but the stat sheet says he could have stayed in Tampa. The sad truth is the Bucs are getting very little production from the 12th overall pick in the draft.
* For the first time since 2014, Lovie Smith's initial season as head coach, the Bucs have dropped seven games within an 8-game span. That was the year Tampa Bay earned the right to draft Winston. This year, they may earn the right to select Winston's replacement.
* There are some Giants fans still upset that New York chose Saquon Barkley instead of a QB in the 2018 draft. Shame on them. As Buc fans can attest, Barkley is a special talent. Containing him was Job 1 for the Buc defense, but he scored three times and ran for 142 yards. Wonder what would have happened if Mark Duffner's group hadn't keyed on him?
* With 75 percent of their road games in the books, this Tampa Bay defense can't wait to get back home. Opponents are averaging 40 points in their home stadiums and if that number doesn't leave you shaken, rattled and rolled, you are taking too many sedatives.
* Minus-23. It has a certain ring to it, wouldn't you say? The Bucs are well on their way to the worst turnover ratio in NFL history, and they've been playing this game for almost a century. But before lamenting all those giveaways, let's not forget the Bucs have posted only one takeaway in the past seven games. Oh the humanity.
* I hear some good seats are still available for Sunday's home matchup against the 49ers. Just a few. Kidding aside, this one is for the die-hards, many of whom will be rooting for the home team to lose so the Bucs get a better draft pick. Can't say I blame 'em.
* Five cheers for Cairo Santos, who made all of his extra-point tries in his Tampa Bay debut. Santos kicked with conviction and confidence, in sharp contrast with his predecessor. For one week, at least, we're not talking about squandered points.
* I've said for awhile that DeSean Jackson won't be back in 2019, but he doesn't deserve the wrath of Buc fans questioning his effort. He's on pace for nearly 1,200 yards, so it's not like the guy is having a bad season.
---
Taping TUESDAY! Enter your Bucs question IN THE FORM below for Derrick Brooks and Ira Kaufman, hosts of the new TAMPA TWO show right here twice a week and at The Identity Tampa Bay. (Yes, that Derrick Brooks!) Or send your Bucs question to The Identity on Twitter, @TheIdentityTB.