"I Was Sick About That"
November 28th, 2018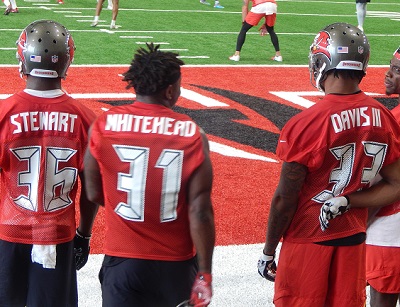 Many Buccaneers fans believe the team doesn't have enough players who literally are sickened by the incessant losing, 10 wins and 20 losses in their last 30 games.
Hard-hitting rookie safety Jordan Whitehead isn't one of those guys. Speaking on the Salty Dogs Podcast on Buccaneers.com this week, Whitehead painted a picture of he can't rest easily for days thinking about plays he didn't make in games. They stay in his head when the lights go out.
"I was sick about that," Whitehead said, referring to some missed opportunities.
For those paying attention, Whitehead is having a heck of a rookie season. It's easy to say the fourth-round pick out of Pittsburgh is the Bucs' best rookie. He's got more solo tackles (43) and tackles for loss (3) than Justin Evans, who has three more starts than Whitehead.
And he brings an energy that the Bucs could use a lot more of.
Whitehead says the Bucs can "change the season around" in the final five games. If they don't, well, Joe is confident of two things: Whitehead will be sick about it and the new Bucs head coach will welcome his 21-year-old safety with open arms.