Gerald McCoy Is Planning An All-Defense Dinner
November 7th, 2018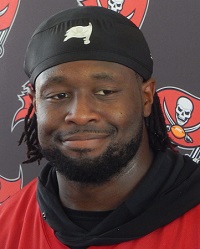 Bonding over food can help fix a struggling NFL team unit.
Pro Bowl guard Logan Mankins sure believed that during his Bucs days, and now Gerald McCoy is talking about the same thing.
Tampa Bay's offensive line was dreadful during their 2-14 campaign back in 2014. From left to right, Anthony Collins, Mankins, Evan Smith, Patrick Omameh and Demar Dotson, struggled and struggled.
Mankins sat down with ESPN as the miserable season ended and told Boston scribe Jackie MacMullen it was too hard for him to bond properly with his fellow Bucs linemen, in part, because he didn't have a homey barbecue venue. So they could all hang out and grill and bond.
Yeah, that was the problem!
Joe never quite got over that.
On Monday, McCoy was talking to local reporters about how the defense is planning an all-defense dinner this week because it's time and they need to do it and have yet to do it this season. "We just need to talk, man," McCoy said.
You can see what McCoy's talking about at the 5:20 mark of this video.