Gameday Tampa Bay
November 4th, 2018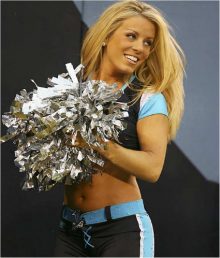 Game 8
Bucs (3-4) at Stinking Panthers (5-2)
Kickoff: 1 p.m.
TV: WTVT-TV Channel 13, DirecTV NFL Sunday Ticket Channel 709. 
Radio: Buccaneers Radio Network (WXTB-FM 97.9 in the Tampa-St.Petersburg region; 97.9 FM ESPN Radio in Tallahassee); Spanish language broadcasts on WTMP-FM 96.1 and WMGG-AM 1470 in Tampa; SiriusXM Channel 98.
Weather: Good football weather in Charlotte. The Carolinas are actually experiencing fall (a lot of folks bemoan this about Florida but Joe is a 24/7/365 summer kind of guy). Kickoff today should be held with a temperature of 61 and will climb to 64 by game's end, all under sunny skies, per AccuWeather.com. Tailgaters will swill ale with temperatures in the high-50s.
Odds: Per FootballLocks.com, Stinking Panthers -6.5.
Outlook: If somehow the Bucs can pull off an upset, they can go on a run looking at the schedule. But somehow, someway the defense has to be able to stop a cool breeze and has rarely done that this season when it mattered. And does anyone expect this Bucs offense to outscore its defense by putting up a safe-50 on one of the hottest teams in the NFL? Carolina did a number of the NFL's best defense last week. Not just that, but the Stinking Panthers have a punishing ground game. Without Kwon Alexander, the Bucs are a sieve at run defense. This game could get very ugly quickly. Joe is trying to look on the bright side; last year the Bucs had no business beating Carolina on the road but America's Quarterback, Pro Bowler Jameis Winston, gave the Bucs a lead in the fourth quarter only to watch the defense p!ss all over itself (again). You know, jack@ss Swaggy Baker?
Trinkets: Bucs QB Ryan Fitzpatrick passed for 194 yards and two touchdowns without a pick last week. He has 1,356 passing yards (339 per game) with 11 touchdowns and five interceptions in his past four starts. Against the NFC South this year, Fitz has six touchdowns and no interceptions. … RB Peyton Barber rushed for 85 yards and a touchdown last week. Barber has 264 scrimmage yards (88 per game) and 2 touchdowns in his past three division games. … WR Mike Evans had six catches for 179 yards, including a career-long 72-yard touchdown catch in Week 8. He has 16 catches for 295 yards (98.3 per game) and a touchdown in past three road games at Carolina. … WR DeSean Jackson had a 60-yard touchdown catch last week, his 24th-career touchdown of 60+ yards and surpassed Hall of Famer Jerry Rice (23) for most all-time. Jackson has 223 yards (111.5 per game) and two touchdowns in the past two NFC South road games. He had 87 receiving yards and a touchdown catch in his last road game at Carolina. … TE O.J. Howard had a touchdown catch last week. He has a touchdown catch in two of his last three NFC South games. … DE Jason Pierre-Paul had two 2 sacks last week. He has a sack in six consecutive games, tied for longest streak in franchise history with Simeon Rice. JPP is 1 of 5 players with seven or more sacks in each of past three seasons. … LB Lavonte David has 40 tackles (10 per game), two sacks, two forced fumbles and two fumble recoveries in his past four games at Carolina. Since entering NFL in 2012, is only player with 800+ tackles (820) and 15 forced fumbles. … DT Gerald McCoy had a sack the last time the Bucs played the Stinking Panthers (the Swaggy Baker game). … Stinking Panthers QB Cam Newton had a rush touchdown last week. He has 21 career games with two or more touchdown passes and a rushing touchdown, most in NFL history. Newton leads all quarterbacks in rushing yards (309) and rushing touchdowns (4) in 2018. He has 13 touchdowns (8 pass, 5 rush) in five career home games vs. the Bucs. Newton aims for his seventh game in row with two or more touchdown throws. … RB Christian McCaffery had two touchdowns (rushing and receiving) last week. He has 269 scrimmage yards (89.7 per game) and a rushing touchdown in his past three home games against division foes. Since 2017, is one of two running backs (Alvin Kamara) with 120+ receptions (124). … TE Greg Olsen had career-high 181 receiving yards against the Bucs on Nov. 10, 2016, aught his 55th-career touchdown last week and became fifth tight end in NFL history with at least 650 receptions (651) and 55 touchdown catches. … WR D.J. Moore had a career-high 90 receiving yards last week. Ranks second among rookies with 15.6 yards per reception average (minimum 15 catches) in 2018. … WR Devin Funchess had 120 receiving yards and a touchdown when the two teams met in Tampa to end the 2015 season. … LB Luke Kuechly aims for the fifth game in a row against the Bucs with at least eight tackles He has 875 tackles since 2012, most in the NFL. … Ageless wonder DE Julius Peppers had a sack and two fumble recoveries in the Swaggy Baker game. Peppers is looking for his fourth straight game against the Bucs with a sack. He has 19.5 sacks against the Bucs, more than any other team. … DE Mario Addison has three sacks in his past three games against Tampa Bay. … DB Donte Jackson had his first career sack last week. He's the lone NFL rookie with three interceptions, a sack and a forced fumble.
---
Yes!! It's a Bucs-Panthers preview on TAMPA TWO, the hot new all-Bucs show with Derrick Brooks and The Sage of Tampa Bay sports, Ira Kaufman, presented by Caldeco Air Conditioning & Heating. TAMPA TWO is a joint project of The Identity Tampa Bay and JoeBucsFan.com.