Bucs At Stinking Panthers TV Map
November 3rd, 2018
Only two regions of the republic will get to watch the Bucs walk into the belly of the beast tomorrow.
Unless Bucs fans live in the Carolinas or most of Florida, they'll need to hightail it to a bar or have NFL Sunday Ticket to watch the game.
Kenny Albert and Ronde Barber will be behind the mic for the FOX broadcast. Of course, Joe always recommends taking in the Bucs game and the full slate of NFL action at Abe's Place in Clearwater. The menu rocks.
As always, this NFL TV map for Sunday's games is courtesy of 506sports.com.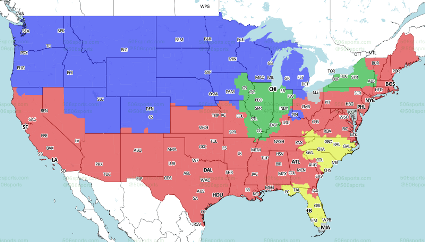 Yellow: Tampa Bay @ Carolina.
Red: Atlanta @ Washington.
Blue: Detroit @ Minnesota.
Green: Chicago @ Buffalo.
Gray: NO GAME due to local home game on CBS.